Air Duct Cleaning Services Near Me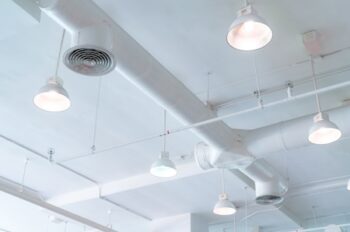 Air ducts are vent passages that carry air from your HVAC system to the heating and air conditioning vents in your home or business. Most duct systems need regular cleaning at least once every three to five years, but this depends on the type of filters you use and how often you turn on your heating and cooling system. If you notice a lot of particulates coming out of your vents, it's time to contact the best professional air duct cleaning service in Clackamas, Oregon. It's time to call Better Air Northwest.
Better Air Northwest is the company homeowners and businesses in Clackamas can trust. We are a local family business committed to serving our customers with integrity since 2009. We have the right tools to clean every inch of your ductwork thoroughly, safely, and efficiently with an extensive service fleet, experienced staff, and quality services certified by the National Air Duct Cleaners Associate (NADCA).
---
What is Air Duct Cleaning?
Air duct cleaning is a process that removes contaminants from the ductwork used by air conditioning and electric or gas furnace. There are ducts behind air vents in every room of a house or commercial building with a traditional HVAC system. Even with the most advanced vacuum options, you can't thoroughly ensure complete cleaning with a conventional vacuum cleaner. Only professional cleaners equip themselves with state-of-the-art tools made for cleaning air conditioning ducts. Before cleaning, we look at the airflow and design of your air system to see what it needs for effective cleansing. As a trusted cleaning specialist company, we perform visual inspections for excessive dust, pet dander, lint and other miscellaneous items.
The EPA recommends cleaning ductwork as needed, but a good rule of thumb is usually every three to five years. Air duct cleaning is necessary for several reasons. If your home smells musty or you have allergy issues, duct cleaning companies will likely be part of the solution for both problems. Air duct cleaning is also often necessary for homeowners after renovations because of the debris and dust involved in significant home changes. 
---
Commercial Air Duct Cleaning

Duct cleaning services are not only limited to commercial or residential locations. Wherever there is ductwork, Better Air Northwest is there to clean it. For commercial enterprises, keeping the air clean and free of contaminants is essential to a healthy environment for employees and customers. While you can expect a slight amount of dust in the ductwork, visible dust build-ups and blockages mean it's time to bring in a professional cleaning company. Excessive amounts of dust and other irritants turn away customers and frustrate employees. At the end of the day, if the environment in your business is not healthy, it is not sustainable.
Commercial duct cleaning jobs ensure that air systems are free of contaminants and irritants that affect your employees or customers. Should the indoor air quality deteriorate to the point where there are unsafe levels of contaminant exposure, indoor air pollution could be considered a workplace hazard. If your place of business has begun to smell funky, feel muggy, or collect dust continually, it's time for commercial air duct service from Better Air Northwest.
---
How Much Does Air Duct Cleaning Cost?
According to NADCA, properly cleaning an entire duct system in an average-sized home will range in average cost. That's because several factors affect the cost of cleaning. These factors include the type of ductwork, overall system size, accessibility, number of crew members required, the level of contamination, and so on. At Better Air Northwest, we give a fixed quote based on square feet to all prospective customers every time. Ensuring clean air ducts is an investment in the hygiene level of your home or business, and we always provide just how much that investment will cost.
In addition to our excellent air duct cleaning services, Better Air Northwest also provides professional dryer vent cleaning services. To learn more about our services in Clackamas, call us today! We'll gladly answer your questions and give you the information you need before making any decisions or commitments.
Common Air Duct Cleaning Questions
What is air duct cleaning, and why is it important?
Air duct cleaning involves removing dirt, debris, and other contaminants from your HVAC system's ductwork. This helps to improve indoor air quality and promote the efficient operation of your heating and cooling systems.
How often should I have my air ducts cleaned?
The frequency of air duct cleaning depends on various factors, such as the size of your home, the number of occupants, and whether you have pets. In general, it's recommended to have your air ducts cleaned every three to five years.
What are the signs that my air ducts need cleaning?
Some common signs that your air ducts need cleaning include visible mold growth, unpleasant odors, increased dust and debris around your home, and a noticeable decrease in indoor air quality.
How is air duct cleaning performed?
Air duct cleaning typically involves using specialized equipment, such as high-powered vacuums, to remove dirt and debris from your ductwork. Some companies may also use brushes, blowers, or other tools to dislodge stubborn debris.
Can air duct cleaning improve my energy efficiency?
Yes, air duct cleaning can help to improve your energy efficiency by removing dirt and debris that can clog your HVAC system and cause it to work harder than necessary. This can result in lower energy bills and a more prolonged heating and cooling equipment lifespan.
Neighborhoods
Vancouver
,
Northwest Vancouver
,
Fisher's Creek
,
Arnada
,
Hough
,
South Cliff
,
North Image
,
Vancouver Heights
,
Evergreen Highlands
,
West Minnehaha
,
Edgewood Park
,
Riveridge
,
Hearthwood
,
Shumway
,
Cascade Highlands
,
Forest Ridge
,
Fruit Valley
,
Father Blanchet Park
,
Sifton
,
Fircrest
,
Sunnyside – Walnut Grove
,
Parkway East
,
Fourth Plain Village
,
Countryside Woods