The anti-microbial disinfectant/deodorizer treatment is an additional service that eliminates microbial growth, protects against future growth, and is one of the most effective ways of removing air contaminants and odors. It does not mask the odor but instead eliminates the source of an odor, eradicating it from the ductwork system. It can be used in homes or offices where allergies are a big concern, when moving into a newly purchased home or office, after home repairs or remodels, as well as in places where pets reside. Dust mites, bacteria, mold and mildew can grow in the ductwork systems even with a quality filtration system.
Our Air Duct Cleaners Use Fast-Acting, One-Step, Hospital-Grade Disinfectants
It kills over 99.99% of Bacteria in 30 seconds!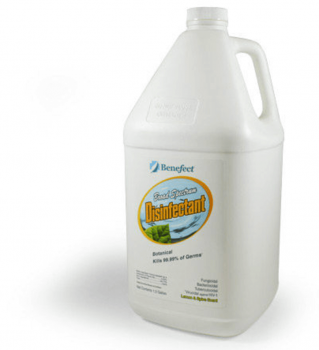 Benefect Botanical Decon 30 is a one-step hospital-grade disinfectant cleaner and the first botanical carpet sanitizer and deodorizer registered with the EPA (EPA reg no. 84683-3-74771). In laboratory tests, Decon 30 kills over 99.99% of the EPA's test microorganisms in just 30 seconds!
Decon 30 uses Benefect's proprietary Thyme Oil Active Ingredient (formulated with whole essential plant oils, not synthesized copies) and is proven to be less toxic than vinegar. Decon 30 contains 0.05% Thyme Oil which gives it a lighter fragrance. It also includes a botanical surfactant to provide it with more cleaning ability and a faster disinfection time.
This powerful disinfectant kills gram-positive and gram-negative bacteria, including Salmonella enterica, Staphylococcus aureus, Methicillin Resistant S. aureus (MRSA), and E. coli. Decon 30 is virucidal against Influenza A, H1N1 Influenza A, Influenza A Avian virus, Rhinovirus type 37, and HIV.
Decon 30 is also fungicidal against Trichophyton mentagrophytes, Aspergillus niger, and Candida albicans.
The unique, optimized dynamic chemistry (ODC) surfactant system in Benefect Decon 30 boosts cleaning performance while still achieving hospital-level disinfection—all with 75% LESS active ingredient!
The Decon 30 ODC system also improves penetration into porous substances, such as wood, concrete, fabric, and carpet. This product both kills and prevents mold and mildew and prevents odors caused by bacteria, fungi, and other organisms. Though it penetrates soft surfaces, it does not bind to them, avoiding re-soiling problems typical of other products.
Benefect Decon 30 is safe for use with building occupants and cleaning crews present. There's no need for evacuation. Plus, its very light, fast-dissipating fragrance makes it an excellent choice for use around individuals who are sensitive to strong odors.
Typical disinfectants require 10 minutes of contact time, which is difficult to achieve on vertical surfaces and materials. But Decon 30 is super fast-acting and will kill bacteria with only 30 seconds of dwell time, making it a preferred solution for the real-world needs of restoration and cleaning professionals.
The EPA identifies Benefect's botanical active ingredient as having no known adverse effects on human health or the environment. It is classified under the EPA's lowest toxicity rating allowed by all for all routes of exposure, including inhalation, ingestion, skin irritation, skin sensitization, and eye irritation.